Suites, submarines, and style: Cruise the Amazon River or set sail for Antarctica on the Seabourn Venture.
Seabourn's newest ship was made to brave the elements: The line's first purpose-built expedition vessel officially joins the fleet on July 27, when it departs from Tromsø, Norway. From there, the 264-passenger Venture will visit the Svalbard archipelago, where polar bears prowl the drifting sea ice, before sailing down Greenland's coast to spend fall and winter in the Southern Hemisphere. Itineraries range from Amazon River and Brazilian coast deep dives to Wanderlist-worthy Antarctic expeditions sailing round-trip from Buenos Aires.
Here, a few reasons we can't wait to get on board.
All the Underwater Action
Both Venture and a planned sister ship (Pursuit, launching in spring 2023) bring tech-savvy toys along for the journey. A pair of six-passenger submarines descend more than 300 feet below the ocean's surface, reaching a depth often rich in shipwrecks, corals, sharks, and whales. "Seabourn is reaching extraordinary horizons," says Virtuoso travel advisor Ineke Brinkman, who can't wait to try a sub ride herself. Meanwhile, for passengers who prefer to stay above sea level, a Cineflex camera captures crisp footage from a distance – leaving marine life undisturbed – to livestream underwater scenes. "The wildlife just keeps doing what it does without our presence impacting that," says Jen Martin, Seabourn's product development director for expeditions.
Cruising in Eco-Friendly Comfort
Venture takes steps in a sustainable direction by reducing underwater noise, burning cleaner marine gas oil, and eliminating single-use plastics on board (expect a wooden spoon with your house-made gelato). Common areas exude a warm, ski-lodge-type atmosphere, complete with fireplaces in the expedition lounge, where passengers gather for talks or wait for Zodiac rides. Heated gear lockers in each of the 132 suites dry damp items after water-based excursions so passengers can kick back, relax, and enjoy their veranda views.
Into the Woods
Wildlife thrives along the 4,345-mile-long, labyrinthine Amazon River, which snakes through six countries. Its surrounding ecosystem is a treasure trove of natural wonder, home to pink river dolphins, basilisk lizards able to run on water, and lily pads that stretch more than ten feet across. Seabourn cruises venture into three Amazonian regions: Brazil's flooded forests and blackwater tributaries, a frontier area sparsely inhabited by caboclos (people of mixed Indigenous and European ancestry), and the Peruvian rain forest, where ancient traditions such as sustenance hunting and cassava farming persevere. Venture also pauses in Iquitos, Peru – home to half a million people, it's the world's largest city that can't be reached by road. Animal lovers may even get the chance to bottle-feed baby manatees during a shore excursion at Iquito's Centro de Rescate Amazónico.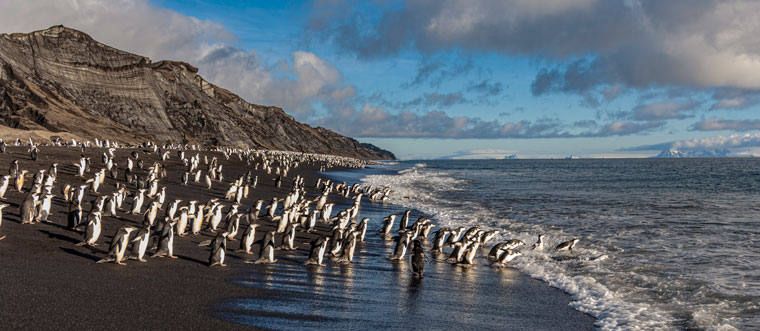 The White Continent
Venture was built to handle high-latitude adventures. "The ship has a Polar Class 6-strengthened hull, which means it's not an icebreaker," Martin explains – but it can slowly push into the frozen sea, allowing passengers to walk on the ice if it's deemed thick and stable enough. Despite the chilly temperatures, Antarctic waters support highly diverse marine ecosystems. Passengers may spot fish, sea stars, and colorful invertebrates below the surface. Showstopping orcas and leopard seals also frequent the Southern Ocean, along with creatures such as the blackfin icefish, which has clear blood and a transparent skull. Don't be surprised if the animals pause for a wildlife moment of their own: These creatures don't run across many humans, and some of them like to keep a curious eye on visitors. To up the ante of your polar exploits, the Venture's longer, four-week Antarctic itineraries include catamaran rides in the Beagle Channel (which runs through the islands that make up South America's southern tip) and kayaking around South Georgia Island, roughly 1,200 miles east of the Beagle Channel.
Calling All Bird-Watchers
Clear your camera's memory cards for Antarctic expeditions – you're likely to spot some of the 80,000 breeding pairs of chinstrap penguins on Deception Island (an active volcano off Antarctica's icy shore, around 625 miles from Argentina's southern tip). The region's flying feathered friends don't disappoint, either. Snow petrels skim along the pack ice, only their black eyes and beaks distinguishing them from the landscape, while entire flocks sometimes settle on icebergs. Listen for the vibrating voices of south polar skuas, whose courtship rituals involve much calling and posturing while flapping charcoal wings adorned with white racing stripes. Passengers may also spot wandering albatross soaring behind the ship; a wingspan up to 11 feet (the largest among living birds), allows them to glide for hours without even flapping. Can't say we blame them for wanting to tag along.